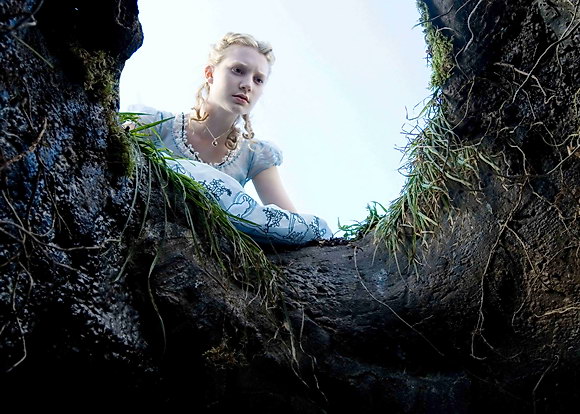 La dernière production (et réalisation) de Tim Burton, sous la houlette du studio Disney, a été annoncé par l'éditeur. La date de sortie est fixée au premier juin prochain, en zone A (aucune indication pour le zonage, mais le disque devrait être bloqué en zone A…). Point de 3D  à l'horizon (pour le moment tout du moins), mais une sans doute très agréable 2D, présenté en 1080p et d'après un format de 1.78 (le format natif des productions 3D, allez comprendre…). La bande-son, Disney oblige, et l'on ne s'en plaindra pas, sera encodée en DTS-HD Master Audio 5.1 (24 Bit). A signaler que cette dernière bénéficiera sans le moindre doute d'un rendu en 6.1, puisque le film a été mixé dans ce format lors de son exploitation en salles. Deux « mixages » ont été produits: l'un destiné aux salles projetant le film en 2D, et l'autre réservé à celles le projetant en 3D. Une très haute qualité technique est attendue sur ce titre, tournage méticuleux oblige, et encodage réalisé par Disney, l'un des maîtres du rendu vidéo HD.
Voici la liste des suppléments de cette édition fort riche en contenus, qui incorporera d'ailleurs le DVD du film, pour un pack dit « combo »:
Finding Alice – It's all things Alice. This featurette includes Tim Burton's vision for the characters, differences from the book and Disney's version of Alice and how she evolves as both a character and actor as she takes an adventure through Wonderland.
The Mad Hatter – Audiences are provided with a deeper look into the world of the Mad Hatter. Check out Johnny Depp's early sketches, make-up, costumes and how they digitally enhanced his eyes.
Effecting Wonderland – A behind-the-scenes piece on the different technologies used to create some of the most beloved characters in the film – Stayne, Tweedledee, Tweedledum, Bandersnatch and the Red Queen.
Suppléments exclusifs au format Blu-Ray
The Futterwacken Dance – Futterwhat? Check out the making of the timeless dance called the Futterwacken.
The Red Queen – The creation of the Red Queen from start to finish, including early Tim Burton sketches showcasing costume designs, make-up and digital effects.
Time-Lapse: Sculpting the Red Queen – A short time-lapse piece showing Helena Bonham Carter as she gets her make-up done. A three-hour process can be watched in just a few short minutes.
The White Queen – An interview with Anne Hathaway, who plays Wonderland's good queen, about her character's journey throughout the process of the film.
Scoring Wonderland – Composer Danny Elfman and Tim Burton discuss the music for the movie.
Stunts of Wonderland – A featurette highlighting some of the biggest stunts in the film.
Making the Proper Size – An inside look at the visual effects process of growing and shrinking Alice. See how filmmakers used different techniques to stay true to the storyline.
Cakes of Wonderland – Take a trip to "Cake Divas" where the creators of the EAT ME cakes provide viewers with details about how they made the smallest crumb to the largest cake in scale.
Tea Party Props – Tea cups, saucers, cakes and more. Prop master Doug Harlocker gives an overview of all the props used to bring the famous tea party scene together visually.
Pour finir, voici un documentaire issu du site de notre partenaire et ami Michael Coleman, Sound Works, qui revient sur le sound design et le mixage du film. Passionnant:
« Alice in Wonderland » Sound for Film Profile from Michael Coleman on Vimeo.