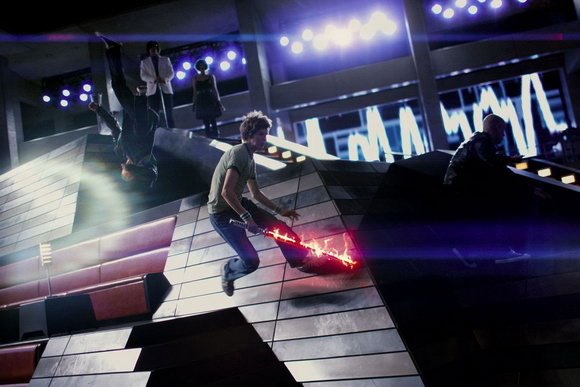 Mis en scène par Edgar Wright (Shaun of the Dead, Hot Fuzz), le délirant Scott PilgrimVS The World s'annonce comme un véritable évènement en Blu-Ray, ne serait-ce que pour son côté grahique au niveau des images et des sons. Et ce sera Universal qui procédera à son édition Blu-Ray zone A, prévue le 9 novembre prochain, et ce bien avant la sortie en salles Françaises. Le film sera présenté au format 1.85 et en 1080p, et proposera une piste son encodée en DTS-HD Master Audio 5.1. Le film a bénéficié d'un travail sonore de tout premier ordre, et cette piste son lossless représente une véritable aubaine pou en tirer toute la quintessence. En guise de suppléments, voici le contenu, dense et varié, de ce qui sera offert:
SUPPLÉMENTS BLU-RAY DU PACK COMBO
INSIDER DOCUMENTARIES:

o Making of Scott Pilgrim vs. the World

o Music Featurette

o You Too Can Be Sex Bob-Omb

ALTERNATE FOOTAGE: A special look at alternative edits to the film.
PRE-PRODUCTION: A look inside the film's pre-production process including storyboards, pre-visualizations, animatics, motion capture tests, rehearsal footage, casting tapes, hair/make-up tests and more!
THE MUSIC OF SCOTT PILGIRM VS. THE WORLD: This feature includes four complete music videos and video remixes from legendary DJ Osymyso.
VISUAL EFFECTS: This feature takes a second look at the movie's inventive visual effects.
SOUND WORK: A mini documentary about the creation of the film's super-powered sonic landscape.
TRAILERS & TV SPOTS from the theatrical release of the film
ADULT SWIM™: Scott Pilgrim vs. The Animation
SCOTT PILGRIM VS THE CENSORS: TV safe version
BEHIND-THE-SCENES PRODUCTION BLOGS from the set of Scott Pilgrim vs. the World by director /producer/ co-writer Edgar Wright.
FREE BONUS MOVIE FOR A LIMITED TIME ONLY: Blu-ray Combo Pack consumers will have instant access to stream action hits Tremors or Pitch Black via BD-Live, Smartphone or computer.
U-CONTROL: Universal's exclusive signature feature allows viewers to delve into the making of the film with the click of the remote without ever leaving the movie.

o STORYBOARD PICTURE-IN-PICTURE

POCKET BLU™ app: USHE's groundbreaking pocket BLU™ app uses iPhone®, iPod® touch, iPad™, Blackberry®, Nokia® Android™, PC and Macintosh to work seamlessly with a network-connected Blu-ray™ player and offers advanced features such as:

o Advanced Remote Control: A sleek, elegant new way to operate your Blu-ray™ player. Users can navigate through menus, playback and BD-Live™ functions with ease.

o Video Timeline: Users can easily bring up the video timeline, allowing them to instantly access any point in the movie.

o Mobile-To-Go: Users can unlock a selection of bonus content with their Blu-ray™ discs to save to their device or to stream from anywhere there's a Wi-Fi network, enabling them to enjoy exclusive content on the go, anytime, anywhere.

o virtual Keyboard: Enter data into a Blu-ray™ player with your device's easy and intuitive keyboard that will facilitate such Blu-ray™ features as chatting with friends and sending messages.

DIGITAL COPY OF THE FILM: Blu-ray™ consumers can download a digital version of the movie to their Mac® and or Windows® PC for a limited time only.
BD-LIVE™: Access the BD-Live™ Center through your Internet-connected player to watch the latest trailers and more.
MY SCENES: Bookmark your favorite scenes from the movie.
AND LOTS MORE!
SUPPLÉMENTS BLU-RAY ET DVD:
DELETED AND ALTERNATE SCENES with commentary from director/producer/ co-writer Edgar Wright
SCOTT PILGRIM VS. THE BLOOPERS

FEATURE COMMENTARIES:

Feature Commentary with director/producer/co-writer Edgar Wright, co-writer Michael Bacall and Author Bryan Lee O'Malley
Technical Commentary with director/producer/co-writer Edgar Wright and director of photography Bill Pope
Cast commentary with Michael Cera, Jason Schwartzman, Mary Elizabeth Winstead, Ellen Wong and Brandon Routh
Cast commentary with Anna Kendrick, Aubrey Plaza, Kieran Culkin and Mark Webber




BEHIND-THE-SCENES PHOTO GALLERIES including Edgar Wright's photo blog
TRIVIA TRACK
GALLERIES: Production photos, art galleries and marketing concepts.